Bundle and Save
ITS NOT ROCKET SCIENCE. SHOP AIR PURIFIER BUNDLES AND SAVE AS MUCH AS 18%.
Shop bundles

→
Next generation air filtration
The same multi-layer technology found in the expensive guys. Our 5-layer True HEPA H13 Filter contains an activated carbon layer, UV bulb, photocatalyst mesh layer, and initial effect layer.
Ultra-Fine Filter
Filter with a bucket-shaped structure that scoops out dust, hair, dander, and other large particles.

HEPA H-13 Filter
The high-density filter forces air through a fine mesh that helps remove pollen, dust mites, and fibers.

Activated Carbon
This honeycomb-shaped filter traps formaldehyde and other harmful substances.

Leak-Proof Net
A super-fine mesh layer to degrade noxious gases and reduce bad odors.
UV light
The built-in ultraviolet bulb helps to minimize or reduce bacteria.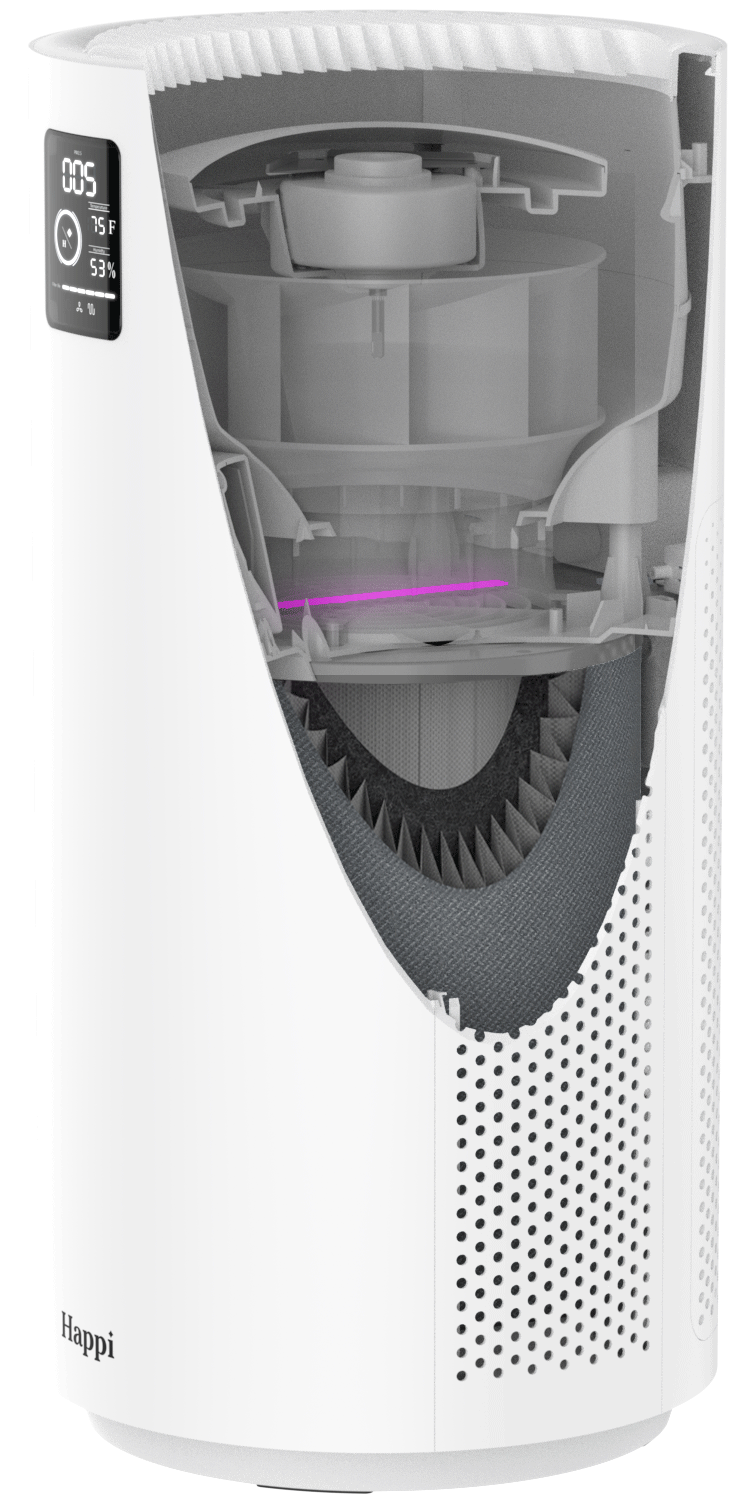 Tap on the numbers learn more.
Hover on the numbers to learn more
How does Happi
actually

help?

Happi's 5-layer filtration technology helps capture airborne particles and pollutants larger than 0.03 microns.
Frequently Aired Questions
Frequently Aired Questions
Where should I put Happi?
To maximize your Happi's benefits, we suggest placing it in a central location and a raised surface.
Should I run Happi 24/7?
For continuous fresh, clean air, we suggest running on Auto Mode at all times. The good news is that your Auto Mode only uses 35 watts – equivalent to a small light bulb. If you do turn your Happi off, it will run an initial clean-up upon restart.
Does Happi require any maintenance?
Your Happi filter should be replaced every six months or so, but no need for guesswork. Happi will automatically alert you when it's time to switch. Either the last bar of the Filter Life indicator will flash red and beep (Our Happi) or the power button will blink red twice per second while beeping (My Happi). 
You can further extend the life of your filter by cleaning its outer layer — vacuum the outer layer or wipe with a damp cloth.
What's your return policy?
Your trust is important to us. That's why we offer ample time to test your Happi so you can breathe easier. If you're not totally Happi with your air purifier, return it within 45 days of the purchase date, no questions asked. 
Customers are responsible for return shipping cost, and refunds will be made to the original form of payment used to place the order. 
What's the difference between My Happi and Our Happi?
My Happi is your go-to for smaller room (Purifies up to 450 sq. ft. Calculation based on air changing 1.17 times per hour in a room with a ceiling height of 8 ft.) purification, perfect for your nightstand, desk, or end table. Our Happi is sized to purify larger spaces (Purifies up to 1500 sq. ft. Calculation based on air changing 1.6 times per hour in a room with a ceiling height of 8 ft.) and stand guard against all your home's odors from cooking experiments to whatever the dog tracked in.

Both Happi's use our 5-layer filtration system to fight a quiet crusade against microscopic pollutants, so you can feel safe taking a nice deep breath.

The My Happi dimensions are 11" high , 8" wide, 8" deep.
The Our Happi dimensions are 26" high , 13" wide, 13" deep.
What's the environmental impact of Happi?
Happi requires about as much power as an LED lamp when it's on and only uses 35 watts when Auto Mode is activated. We also partner with One Tree Planted to offset our carbon footprint by planting a tree for every unit sold.
When will I get my filter subscription?
If you added a filter subscription to your Happi purchase, the first replacement filter will arrive with your order. Don't worry though, every Happi comes with a filter inside, but now you'll always have a back up.
The next replacement filter will automatically ship 6 months after your purchase date, with replacement filters continuing to ship every 6 months so your Happi can keep performing at its peak. If you change your mind, you can cancel your subscription at any time before your next shipment. Less worry, more Happi.
Happi-ness guarantee
We own the Happi factory, so we can make sure every square millimeter of our technology does exactly what it's made to. In fact, we're so confident in our quality, we'll give you 45 days to try it out. Breathe it for yourself — and if you don't like it, send it back. (You'll like it, though.)