Easy 3-button control panel
You shouldn't need a PhD in Virology to know what's in your air. You shouldn't even need a smartphone.
Our simple 3-button control panel takes the guesswork out of breathing easy.
Shop Now

→
UV Light
Power
Fan
What does your Happi air purifier
actually

capture?

Happi's smart sensor automatically starts cleaning the "ew" in your air the second it's detected, capturing allergens, dust, pet dander and 99.98% of particles 0.03 microns and above.
"...we finally had a
great night's rest.

"
Scientists have found that clean, purified air improves the quality of sleep—and that better sleep is as beneficial to our happiness as 8 weeks of therapy, or winning a quarter of a million dollars.
https://www.medicalnewstoday.com/articles/316445
Jenna, ★★★★★
Next generation air filtration
The same multi-layer technology found in the expensive guys. Our 5-layer True HEPA H13 Filter contains an activated carbon layer, UV bulb, photocatalyst mesh layer, and initial effect layer.
Explore filters

→
Ultra-Fine Filter
Filter with a bucket-shaped structure that scoops out dust, hair, dander, and other large particles.

HEPA H-13 Filter
The high-density filter forces air through a fine mesh that helps remove pollen, dust mites, and fibers.

Activated Carbon
This honeycomb-shaped filter traps formaldehyde and other harmful substances.

Leak-Proof Net
A super-fine mesh layer to degrade noxious gases and reduce bad odors.
UV light
The built-in ultraviolet bulb helps to minimize or reduce bacteria.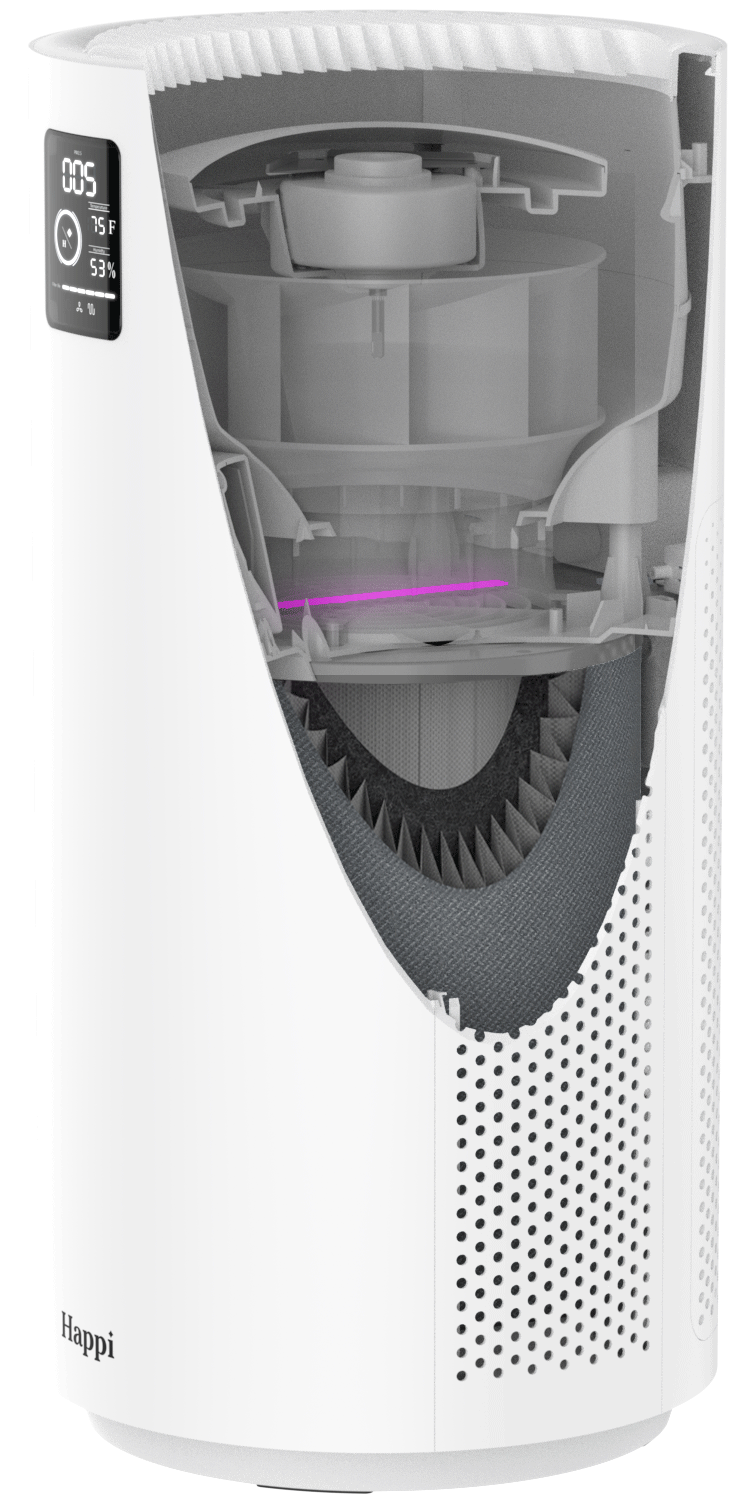 Tap on the numbers learn more.
Hover on the numbers to learn more
Happi Customers
Don't believe us, believe them.